DRY SHAKE FLOOR HARDENERS
Floor Hardeners are dry cementitious powder blends mixed with special aggregates selected for their toughness and particle shape. The aggregates selection is well established process of drying and separation of the particle size fraction and selecting a specific even grading that ensures a fully cohesive consistent mix, which is fundamental to the ultimate performance of a dry shake topping. A good topping is a once applied treatment making its initial cost an outstanding investment even for the lightest flooring duty. Floor Hardeners are applied as part of the concrete floor laying process ensuring even coverage & by understanding of the setting time of concrete. No special handling or mixing is required. Metallic & Non Metallic hardeners are available in a range of colours as below.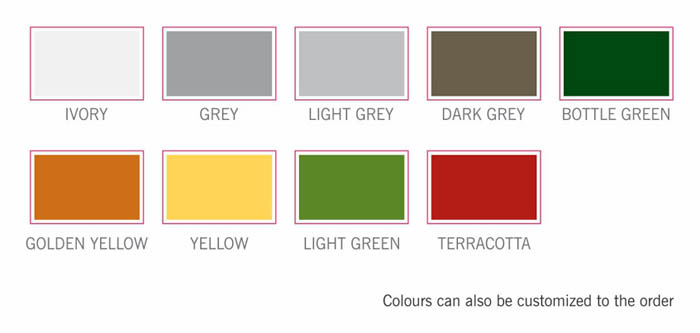 FloorHard-Q
It is a pre-mixed non-metallic, dry-shake surface hardener and has properties which contain hydraulic binder and specially graded mineral aggregates. It comes in grey as well as a variety of colours.It is supplied as ready to use factory controlled dry shake cementation system blended with special aggregates selected for high abrasion and wear resistance and additives. It is used to obtain a dense, -tough, abrasion resistant industrial floor with non-dusty and nonslip characteristics.
Read More

FloorHard-M
It is a dry shake, metallic floor hardener with cleaned and graded, non-oxidising metallic aggregate in a high strength cementitious binder, designed to be incorporated into fresh concrete floors. It provides a dense, tough surface capable of withstanding the abrasion and impact loading seen by floor slabs of warehousing, industrial and manufacturing facilities. FloorHard-M has been specially formulated with a non-rusting aggregate for increased abrasion resistance in areas subject to high traffic exposures.